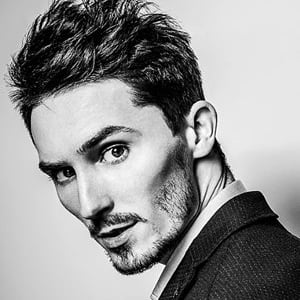 Kireev Art
Biography
KireevArt (Artiom Kireev) is acknowledged as one of the most professional and successful Belarusian photographers in fashion industry. In 2011 he was awarded with the title of "Most stylish photographer of Belarus" by "Night of Style"; Gold award for first place in nomination "After Dark" - Proify International Photography Awards 2016; Honorary award and publication in the annual catalog Ozone Zone International Photo Salon 2016; Twice published in famous Dodho Magazine 2017 (Barcelona) - https://www.dodho.com/my-wonderland-by-kireevart/ ; Participant of the international photo exhibition ImageNation Paris 2017 - http://www.imagenation.it
A 30-year-old Artsiom was born in Minsk. He achieved an M.A. degree in Visual and Cultural Studies in Vilnius. First higher education - finance and after an economy magistracy in BSEU. This background gave him perfect understanding of approaches to the art of fashion & commercial photography and diverse ways of their execution. Artiom Kireev proved himself to be a gifted specialist by declaring the personal approach as the main priority in his career. Artiom belongs to the rare to meet type of photographers who always reach a feeling of sophistication and intelligence in their works.
Professional model in his past, Kireev has a vast knowledge of exposing a model's personality in the most natural manner. All the KireevArt's works combine versatile types and styles in photography. The author's personal approach is concentrated on revelation of fairy tale fine arts images by showing ordinary people in imperceptible locations on his own stylistic manners. Also successfully realizing the most difficult advertising companies in field of commercial photo. The photographer practices both studio and outdoor sessions with the use of pulse light and special outdoor equipment. Artsiom is the founder and head of "Innervision Art Group", (2008-2010) famous for its sensational art projects. The group's most successful project called "Welcome to the Circus". KireevArt took part in a number of international expos and photography competitions: Bristol Salon 2017 (Short list); 35 Award 2017 (Final); Epson 2017 Moscow (Final); Received a photography award: "Sexy In Nature Photo Contest" ViewBug 2017; Top 10% best ViewBug photographers of all time. Awarded in the category of best photographers according to the Rich Cat club (2016). His works were featured in numerous magazines and advertisements around the globe and were placed on the covers multiple times. Not for a long time worked in XXL magazine doing them covers. (Belarus, Minsk 2013). Artsiom also manages to successfully hold the Art-Director position in the Minsk photo studio called White. (Belarus, Minsk 2012-2013). Kireev has a huge experience as a model and image-maker, boosted by experience of working on TV. He used to work with the Lithuania-Norwegian event project Reconnoitre (2012) and opened 4 studios by himself for the last 8 years. Now Artsiom works as a full time freelancer worldwide. Last 4 years traveled (mainly across Asia and Europe). Consulting-partner of Bit production (2014). 5 times participated in national beauty contests as jury. Has behind shoulders experience more than 1000 various shoots projects & 10 years very intensive work practice. Artiom is distinguished by his skills of making commercial projects of any level of complexity in short terms, while maintaining the high-quality level. Talent and die-hard dedication makes him one of the most professional young specialists in his area on the territory of Ex-Soviet Union.
Personal tastes: Country life, Pet's, Nature, Travel, Fashion, Book's, Psychology, Jazz till 70хх & and Fink acoustic music, Positive people, work's of Dario Salas Sommer and Eckhart Tolle. Fairy tale on photography and real Life. Bright individuals, talented masters dedicated to the crafts. Trust in symbolism and power of open mind. Believe that those who deserve it, will always be fine. Appreciate own time, enamored of life, beauty of nature and people. Artiom speaks English, Russian, Polish. Open for interesting offers on regional cooperation and serious project work.
Contact